Leather bracelets can be an excellent gifting option for that special woman in your life. And if you are a woman wanting to splurge on a unique, trendy, and timeless accessory, a leather personalized bracelet can indeed be a great choice.
Leather has that rugged and strong appeal that none of the other materials used for creating bracelets can match, making it a distinctive addition to your accessory collection. But as leather bracelets are now a popular fashion choice, the markets are filled with thousands of fantastic options in every color, design, and across every budget.
Unfortunately, these options can make the selection very confusing for any first-time buyer. Like any other fashion accessory, the leather bracelet should reflect the personality and style of the wearer while also offering utmost comfort. So, how should you pick the best leather bracelet for women? Continue reading to know 5 expert tips for buying personalized leather bracelets for women that can help you make the right decision-
1. Budget
It is always wise to begin searching for a customized leather bracelet with your budget. The prices can vary significantly based on the quality of leather and design. But unlike diamond or other expensive jewelry pieces, leather bracelets are generally not very expensive. Rest assured that you can purchase a beautiful piece for less than $100.
One of the best ways to purchase a unique leather bracelet well within your budget is to search for one online. Digital platforms offer the widest range of personalized bracelets for women, making the selection easier. And when you already have a budget in mind, it will only make the buying process quick and hassle-free.
2. Style
When you start searching for the bracelet online, you are sure to come across hundreds and thousands of design options. The plethora of options often makes things very confusing for the buyers. However, the conundrum can be eliminated to a significant extent if you focus on your style first. You can easily find leather bracelets that are glamorous, simple, or classy.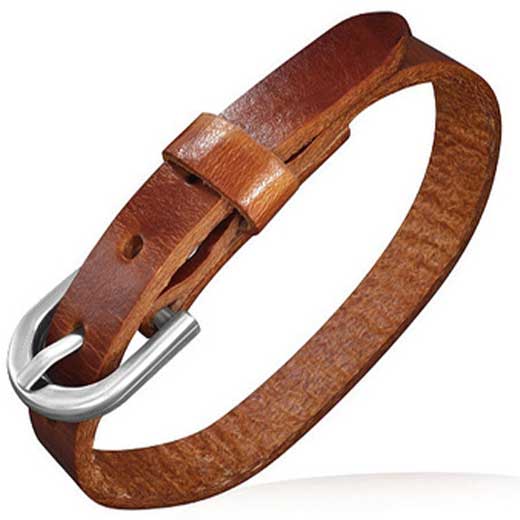 For example, if you are more of an outdoor person, ensure that the leather bracelet you choose has a secure build so that it doesn't get lost when you are enjoying the outdoors. Some of the online stores also offer unique choices, like Medical ID Bracelet. These bracelets can be considered for their function and fashion appeal.
3. Personality
The third tip for buying personalized leather bracelets for women is to match her personality. The leather personalized bracelet will also speak volumes about your personality. So, it is essential to choose one based on your personality type. Leather bracelets are generally preferred for their practicality, simplicity, and rugged appeal. If you can relate to these qualities, rest assured that a leather bracelet is for you.
While browsing through a reputed and trusted online store that sells quality personalized products, you are sure to come across pieces with metal studs, while others have a simpler and rugged design. If you are purchasing the bracelet to accentuate your spirited personality, a piece adorned with studs can be a great option. However, if you are looking for something simpler, go with one of the more basic and classy options.
4. Design and Color
Designers now experiment with unique designs across a wide range of leather colors. You can find pieces in darker, elegant hues to ones with earthy and warm tones. The design and color you choose will also significantly impact how the bracelet looks on you. So, proceed very cautiously and consider factors like your style, skin tone, etc., to pick the best.
Some online stores also allow you to customize the bracelet with engravings. If you are looking for a leather bracelet as unique as you, this could be a smart choice. You can get your name or any special date or information engraved on the metal plate adorning the bracelet. Some of the stores also offer leather buckle bracelets with the option to engrave directly on the bracelet.
5. Build Quality
If you want the leather bracelet to last for a long time, give special attention to the build quality. After all, if you are spending so much time and effort on choosing the best leather personalized bracelet, you'd definitely want it to last at least for a few years. The most durable and pocket-friendly option is to select a bracelet made from genuine leather.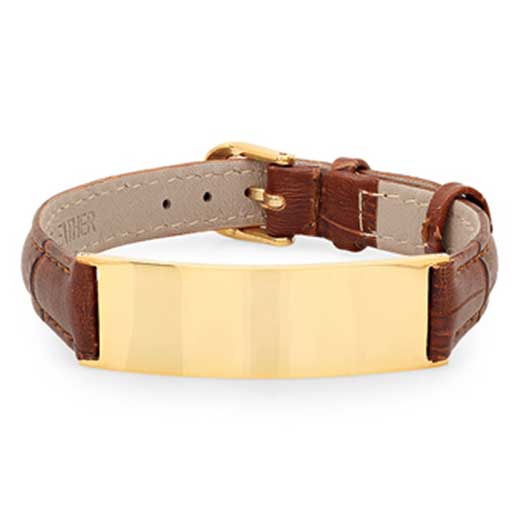 While genuine leather is not as durable as other leather grades, such as full-grain leather, its products look beautiful and are reasonably priced. Also, as genuine leather is more affordable, the broadest range of designs and colors are mostly available in this grade. Apart from the leather itself, ensure that the accessories used on the bracelet are also made from quality materials.
You can also follow your guide on how to braid a leather bracelet if you want to make a braided leather bracelet for yourself to ensure build quality.
How to Choose the Best Personalized Leather Bracelet for Women?
If you are searching for the best personalized leather bracelet for women, focus on the points discussed above, as they are sure to make the purchase easier. Rather than visiting multiple offline stores searching for the best product, begin your research online as it will save a lot of time and effort. With just a few clicks, you can browse through hundreds of leather bracelets across every budget.
Choose a reputed online store that offers a wide range of personalized products to ensure that you choose a good quality bracelet. Go through the online ratings and reviews of the store and even the product you're planning to purchase, as it will add more confidence to your buying decision.
If you love the leather bracelet after it is delivered, ensure that you also leave a rating and review to help other buyers choose the best.