Creative birthstones and customized promise rings are the new way of expressing love. Couples tend to buy pre-engagement promise rings for each other as a token of their love for one another. While birthstones are worn more out of personal choice.
A person wearing its birthstone reflects its month, zodiac sign, and time period of birth. It has become the latest way to express your individuality.
Pre-engagement promise rings, also known as promise rings are a token of commitment. Couples present each other with these rings as an informal way of getting engaged. Mostly worn by couples who are young enough to formally get engaged, pre-engagement rings are a way to express your promise to get married in the future. However, these days customized promise rings have become a fashion statement.
When it comes to birthstones, fashionistas are becoming more creative with it. Similar is the case with promise rings. Couples are getting more and more creative with it and ordering customized promise rings.
Creative Birthstones and Customized Promise Rings
These two fashion jewelry pieces are becoming popular by the day. Combining both gives birth to couples making each other wear customized promise rings carrying their respective birthstone. They can be more creative and design rings bearing not just the receiver's birthstone but the giver's birthstone studded as well. Further, you can even add diamonds to the ring. Depending on your budget, the sky is the limit for you.
There are several ways to get the birthstone set in the ring. You can have a single stone ring bearing the birthstone as the only stone studded in the ring. Couples can even get each other's birthstone set in their rings. If the ring design allows you to be more creative then you can step up your imagination and add diamonds around the birthstone.
Even a favorite gemstone that matches the color scheme of the promise rings can be beautifully added to the ring. As mentioned before, the sky is the limit when it comes to designing customized promise rings. Since these rings prelude the actual engagement, promise rings reflect the unconditional love and commitment the couples have for each other.
Birthstone promise rings and stone quality
Before purchasing any piece of jewelry it is of utmost importance to know and understand what you are buying. In other words, educate yourself about the stone quality before shelling out money. There are three types of stone quality-
Real Stones- these are quite expensive and some of these birthstones are rare to find. You can have these real stones studded in gold, silver, or an open band type that allows the recipient to adjust its size.
Lab-grown stones- as the name suggests, these are cultured stones that look similar to the real birthstones, But they cost way cheaper than the real and rare stones. Wear these in a gold or silver studded ring and no one will be able to tell the difference!
Simulated stones- crystal or Cubic Zirconia are colored so that they appear like real birthstones. You can get these simulated stones to set in any precious metal like gold, silver, or titanium. What you get is a decent looking birthstone promise ring that doesn't burn a hole in your pocket.
There is another metal called Moissanite that is a great substitute for gold. It is slightly more expensive than Cubic Zirconia but is more long lasting.
Engraved Birthstone Promise Rings
If one is looking to present a more personalized and customized promise ring you can get it engraved. It is a great idea, especially when you plan on committing to the relationship. To make the pre-engagement promise rings more creative you can get anything engraved on it.
Any message, proverb, dates or names, etc can be engraved. One can get it engraved in any font. Also, you can get the message engraved inside the ring or outside the promise ring. It can be any romantic message that you plan on keeping alive throughout your relationship.
Creative Designs of Birthstone Promise rings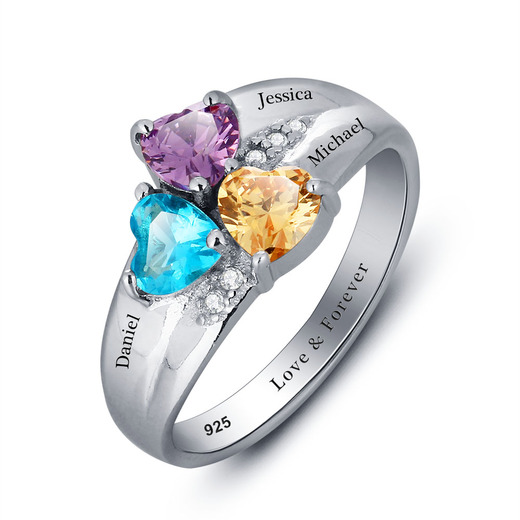 Apart from choices in the stone quality and the metal used, one can even pick up a creative birthstone pre-engagement ring. In the sense that there are several designs to choose from. There are twisted rope bands, open bands, swirl rings, an infinity design, knotted design, etc. One can also get the birthstone embedded in the shape of a heart or a knot or doves or a cross.
For example, a Claddaghs ring design has a heart-shaped birthstone in the center held by two hands on both sides and the crown on top of the heart. This medieval ring symbolizes love, friendship, loyalty, and commitment, the key ingredients to any healthy relationship.
Do big Brands sell Birthstone Promise rings?
Almost every leading and high end brand sells customized promise rings studded with birthstones. MYKA and Micheal Hill are two brands that offer customized promise rings. One can even purchase pre-engagement promise rings online on eBay.
Cost of Purchasing a pre-engagement promise ring
When it comes to buying a pre-engagement promise ring with birthstones studded in it, the costs can vary. One can go all out and purchase from a big brand costing you a few thousand dollars. If you plan on saving money for the actual engagement ring, a decent one between $50-$200 isn't a bad option either.
In fact, there are Swarovski birthstone promise ring that cost $10. The reason why they are so cheap is that the birthstone is a simulated one and the stone is studded into the ring using a stainless steel wire. On the other hand, if you want to know how much a custom engagement ring costs and how to design one by yourself. Then you can check out our blog how to design your own engagement ring.
Final Words
Presenting him or her with a customized promise ring bearing the birthstone of the receiver is the ultimate token of love. It shows that you are ready to take the next step towards cementing your relationship, albeit informally. Be creative with it and surprise your partner!