Congratulations on your decision to get engaged. Now that the decision is finally made and a date is fixed, one of the most critical tasks on your to-do list is to shop for an engagement ring. While you can visit any store offline or online to browse through hundreds and thousands of ring options, creating something unique and memorable on your own can be very exciting.
It is very common for couples to create a custom ring for their engagement to ensure that the bespoke piece is one of a kind, just like their relationship. If you're confused about where to begin, here are some tips for how to design your own engagement ring that are sure to help-
1. Start Researching Early
It'd be wise if you start planning the engagement ring at least a couple of months before the big event. Based on the design and jeweler/store you choose, custom engagement rings can take anywhere between a week to two months. Even once the ring is ready, some adjustments might still be needed in some cases. So, starting early can definitely help.
As for the research, you can take inspiration from your soon-to-be-brides jewelry box. If you are the bride and designing the ring for your soon-to-be-groom, the design and build of any rings or other jewelry he already owns can be a good starting point. You can also consider designing the wedding ring with the engagement ring to ensure that they both look great together.
2. Browse Online
Whether the ring is being designed together as a couple or a surprise for your significant other, the internet can be a gold mine for great designs. The tip above will at least provide some idea of what you should be looking at. So, take clues from the likes/dislikes of your significant other and begin the virtual brainstorming session.
Use platforms like Pinterest o search for custom rings, gemstones, colors, styles, etc., that you like. A simple Google search can also be very helpful. You can also check some popular jewelry stores online and filter out the options as per your liking for some inspiration. Save the images you like for future reference, as you'll have to share them with your jeweler/designer.
3. Finalize Your Budget
One essential tips for how to design your own engagement ring is to set a budget for your engagement ring. You can find great designs even if you are looking for a reasonably priced ring. The sky is the limit if you've decided to splash out on the ring.
Whatever you decide, it'd be better to have a ballpark idea at least before you start finalizing the stone, metal, and other critical aspects of the ring, as the prices can significantly vary between choices. The last thing you'd like to do is design a customized ring only to realize that it is way out of your budget. So, set a budget and discuss the same with your jeweler before proceeding to the next step
4. Finalize the Center Stone and Shape for Your Custom Ring
The focal point of the engagement ring is the center stone. You can consider options like diamonds, emeralds, rubies, or sapphires for the ring. While diamonds are the traditional choice, you should definitely check out some other popular colorful stones that look beautiful and unique when used in an engagement ring.
If it's diamond, it will help if you try to know more about the 4Cs (Color, Cut, Clarity, and Carat Weight) to make the right decision. As for the shape, you can choose between popular options such as round cut, cushion cut, princess cut, pear cut, oval cut, or emerald cut. Remember that the stone shape will significantly impact the appearance and feel of the custom ring.
5. Choose Ring Metal
The next step is to finalize the ring metal. 18ct yellow gold and titanium rings are two of the most popular options for engagement rings. If you want something truly unique, you can experiment with rose gold. The personal jewelry collection of your significant other can make the metal selection easier if you're unable to make a decision.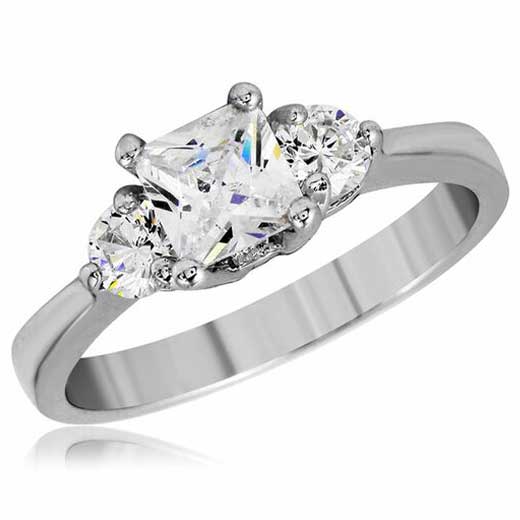 If the collection mostly includes a certain type of metal like stainless CZ rings, it'd be safe to assume that they like it more than other options. You can choose the same metal for your custom ring.
6. Try the Rings in Person
Once you're ready with the selected stone, shape, and metal band, you should consider visiting the nearest jeweler to try similar options on your hand in person. Even if you're purchasing the ring online, it will help if you visit the nearest jeweler for some in-person trial of the type of ring you are designing. An in-person trial is the most effective way to understand how the ring will actually look on your hand.
Apart from what you've already selected, it can also help if you try a few other options to ensure what you've chosen looks the best on your finger against your skin tone. In-person trials also help eliminate the confusion regarding the carat weight, shape, and size of the ring.
7. Choose the Right Jeweler/Online Store
Last but not least is selecting the right jeweler. Ensure that the jeweler you choose has the requisite skills in designing a custom ring. A lot of people now prefer online personalized gift stores for designing their engagement rings.
The wide range of options, reasonable pricing, and swift delivery make them an excellent choice over offline stores. You also get to go through customer ratings and reviews that can help you confirm the quality of the product before making the purchase.
Preparing for the Big Day
There's a lot of apprehension surrounding engagement rings and their selection. But if you have a thoughtful approach with plenty of time, you can design a beautiful custom ring that is as special as your love for your partner.
If a custom engagement ring is on your mind, keep these tips in mind, and rest assured that the process will be highly rewarding and satisfying.