The tradition of giving a promise ring to your loved one, your friend, or a family member is an age-long tradition. However, promise rings are not for everyone. For those who believe in promise rings, it is considered a step up from having dated. It is something that shows the world a couple and informs them of their love and promise for one another. It is obvious for such a couple to be concerned about how much do promise rings cost ahead of engagement rings, because of their need for them. The promise ring is thought to be essential in preserving and cultivating a relationship. But since the promise ring is not, (in any way), an engagement ring, most individuals don`t believe they should risk their wallet on it. To them, it is a subjective term. If you wish to offer anyone a promise ring, you need to consider several factors before making your purchase. Most importantly, you must consider your financial situation. However, how much does a promise ring cost typically? Before we get into the cost of promise rings and buying tips, let us, first of all, take a deep dive into what a promise ring is.
What is a Promise Ring?
Amongst Those in Romantic Relationship
This is a ring a person gives to another person with whom they share a romantic relationship. It is to demonstrate their integrity and commitment to each other in their relationship. Such an act of commitment often results in engagement. At its most basic, to give a promise ring to your loved one represents your commitment to the relationship. And accepting it, on the other hand, also shows the same on the side of the recipient. A basic promise ring comes in a very simple design ahead of the engagement ring. But there are lots of styles and designs from which you can choose that will suit your budget and purpose.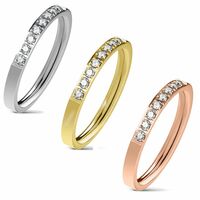 While doing your selection of which type, style, or size of a promise ring, note that you can wear it on the normal ring finger but your right hand. The finger where wedding or engagement bands are worn. Even metals are frequently unique. While platinum, 14K & 18K gold are the most expensive and popular metals for wedding bands, and engagement rings, sterling silver & 10K gold are more reasonably priced and popular alternatives for promise rings.
Amongst Other Relationships
Friends can exchange promise rings, pledging friendship for all time. A parent may also give a child a promise ring as a form of telling them, "I'll love you forever." Promise rings are usually a symbol of abstinence. You can wear them as a sign or a promise of anything, such as a goal, faith, or a promise to quit a bad attitude.
Cost of a Promise Ring and Buying Tips
Talking about how much do promise rings cost will vary due to a huge variety of factors. These involve the materials used, the brand mark, as well as where you are buying. Because promise ring prices don`t cost a fortune like engagement rings, with a minimum of $30, and a maximum of $50, you can get more than enough to choose from. That, of course, is a flexible range. There are still high-profile promise rings that will cost a fortune if that is what you want. For example, in some shops, promise rings cost between $500 - $2000, in other shops they cost between $199 - $599. As much as a promise ring does not cost more than engagement rings, there is no hard rule of thumb as to how much is right or wrong for a promise ring. With as little as $30, you can own one.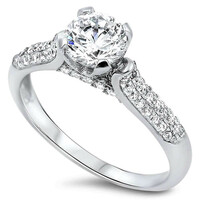 You also need to keep your loved one`s reference because, in contrast to a regular promise ring, some people love a ring pop. These are all things that come into play when trying to buy a promise ring. But because you are buying your first promise ring and you want it to be worth a while, below are things to consider when buying. In addition, just like promise rings, for cost consideration, some steps for designing engagement rings have to be followed.
Take a Look at The Metal First
When buying your first promise ring, where you are buying does not matter, but the material with which the promise ring was manufactured. Some of the materials used in manufacturing good quality rings include - white gold, yellow gold, rose gold, sterling silver, stainless steel, as well as platinum. These are all factors that will heavily motivate the cost of the promise ring. On top of that, other precious metals such as – copper or brass can also be used in plating the promise ring. But the prices will consequentially vary as well. However, while focusing on these qualities, don`t forget to pay close attention to your budget, the prices of these rings, and your recipient`s preference, (which is where the hammer meets the nail).
Stay Away from Any Ring That Resembles an Engagement Ring
As the names promise ring and engagement ring differs, so do their looks. Try and get to know the difference so that you don`t end up picking an engagement ring, ahead of a promise ring. Giving an engagement ring to your recipient in place of a promise ring may get him/her confused and misunderstand the right purpose of the ring. And this can hurt your recipient down the road.
Choose According to Your Recipient`s Preference
At this point, the price may not be too significant. Because what matters is what your recipient wants. So long as it makes him/her happy, it's a done deal. If you can go for a pricier one, that's equally fine. But focus more on your recipient`s preferred fashion, style, and taste. Also, consider the promise ring-like setting of your choice. I mean, you should go for a more lovely, classic, and solitaire promise ring, instead of one that has a heart shape.
Types of Promise Ring
A promise ring can be used to represent a variety of commitments, as evidenced by the rings' various variations. When buying a promise ring, you have the following options:
Promise or Purity Ring
Pre-engagement Ring
Abstinence Ring
Religious Ring
Friendship Ring
Conclusion
No matter how low cost a promise ring can be, nothing can stop you to go for a better option. You just have to make sure you are buying the right one for the right purpose. And to be able to make the right choice, you should first identify your need for it and go for the one that addresses that purpose. Don`t worry about how much do promise rings cost, just make sure you know what you are buying. A knowledgeable buyer is the safest buyer.