What started as identification tags for soldiers have now become a fashion accessory with dog tags. The stylish metal necklace with a bead chain and plate is now a must-have fashion accessory for men. Whether you are wearing something casual or want to add a dashing touch to classy attire, a dog tag can definitely help.
You can now also find personalized online gift stores that sell engraved dog tag for men. If you're looking for a unique fashion accessory for your man, a customized dog tag is indeed a great option. Here are some of the top reasons that make them an excellent gift-
1. High-Fashion Accessory
A personalized dog tag is very effective when it comes to adding a finishing touch to any attire. Their shiny metal build with the personalized rectangular metal plate can help any man stand apart from the crowd. From parties to formal events, a dog tag is truly the most versatile fashion accessory. And the option of personalized engraving only enhances their appeal further.
You can consider engraving the name, date, or any small message or quote on the dog tag to ensure that the gift holds a lot of significance for the recipient. Some online stores also allow you to get a picture engraved on the tag, making it the best romantic gift for your partner. The engraving is commonly done with a diamond cutter for the best finish.
2. A Lasting Bespoke Gift
The high-quality metal build of the dog tag also means that the fashion accessory will last for a long time. Unlike many other accessories for men, a dog tag doesn't even require any tasking maintenance or care-taking. The personalized tag is highly durable and can be worn all year round, be it summer, winter, rain, or snow.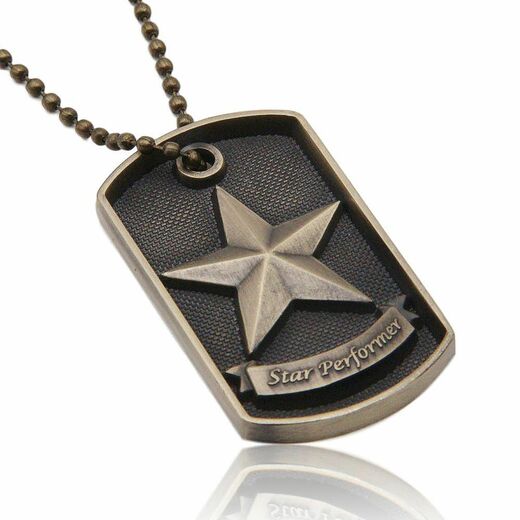 To ensure that you only receive an engraved dog tag for men that is high in quality and durability, choose a reputed online store. You can check store and product ratings and reviews to make the right selection. Do check the personalization tips as well for the best results. Most stores generally offer a preview of the engravings before you make the purchase.
3. Highly Affordable
With a personalized dog tag, you don't have to spend hundreds of dollars on a thoughtful and fashionable accessory. As the pieces are generally made from stainless steel, they are highly pocket-friendly and an excellent choice if you are on a budget but still need something unique and long-lasting. You can easily purchase a quality dog tag from a reliable online store for less than $100.
If your idea of a perfect gift is to give something unique that will be cherished by your partner and not about the amount of money you spend on the purchase, a customized dog tag is the way to go. Choose a piece that you believe suits your partner's personality and get it personalized with name, date, message, or even a picture without breaking the bank.
4. Wide Range of Options
While engraved dog tags are highly affordable, you can still find plenty of great options to choose from. The pieces can vary based on the metal used for their construction, design, shape, size, and more. To choose the best for your man, you can take inspiration from his existing fashion accessories. If he likes a specific color like silver or black, you can choose the same for the dog tag.
If you want something very unique, you can consider something like this Stainless Steel Rainbow Color Dog Tag for its distinctive appeal. On the other hand, if a practical and functional gift is what you are looking for, you can consider something like a medical ID dog tag that is commonly worn by people suffering from a medical condition.
5. Engraved Dog Tag For Men are Trending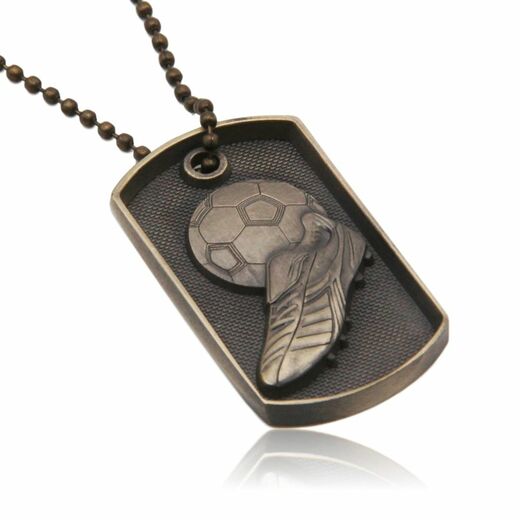 You might have seen a lot of celebrities and fashion icons sporting a stylish dog tag in the last few years. But these fashion accessories are not just for celebrities. Any man can sport a stylish trendsetting dog tag. As the accessory has been trending for some time now, it is the perfect gift for any fashion-forward man.
If your man loves to keep up with the latest fashion trends, the engraved dog tag for men is the way to go. A good quality dog tag with custom engraving is sure to add a lot of flamboyance to any fashion accessory collection. And as they don't cost a bomb, you can also consider purchasing a few different dog tags in various designs and colors.
Personalized Dog Tag: A Lasting Romantic Gift
If you are confused about what you should purchase for your partner on anniversary, birthday, Valentine's Day, or just like that, a personalized dog tag is a fantastic option. The shiny fashion accessory looks very stylish and easily adds a lot of panache to any attire.
Look for a reputable online gift store specializing in personalized gifts for men to start browsing through the options. Once you select a piece, ensure that you check the engraving instructions so that the final product looks exactly how you've imagined.