A keychain is a portable, yet, lightweight assembly of your keys and other accessories connected on a single ring. Some of these keychain accessories are multifunctional, while others are just for decorative and security purposes. Most celebrants offer them to invitees as souvenirs and they are hugely sold in the market today. That is why if you look around today, you will see a lot of beautiful DIY things to put on a keychain, most of which will make your keychain multifunctional. Some of these keychain accessories can be a pen, a bottle opener, a flashlight, a multi-tool, a minuscule charger, gifts, etc. The thing is that they all serve to keep your keys intact and free from the risk of getting lost.
All your keys, from your house keys (car keys and other keys), are incorporated on your keychain. You never leave your house without it because it gives you access to all areas of your properties. If you leave your house without it, forget it someplace else, you may lose access to any of these areas. Having almost every key in one place may be cumbersome to carry along, but remember the safety that it offers. While there is a limitless list to choose from, we are going to go through 10 of the best keychain accessories you can find around.
10 Beautiful Things to Put on Your Keychain
Flashlight Keychain
Flashlight keychain is most used in our rural areas. It enables you to find your way in the dark, and in the event where you lost something in the dark, you can easily find it with the help of your flashlight keychain. Some of these flashlight keychains have LED bulbs that give a brighter luminescence. Though the light might not be as bright as an industry lamp, they are still very good for casual use. Flashlight keychains are smaller in size, which means you still have enough space for other stuff on your keychain.
Pocketknife Keychain
The pocketknife keychain is another multifunctional keychain accessory that rescues you in various situations. You can use it as a scissor, a tweezer, a plier, a drill head, or even a screw bit. The size of such a keychain accessory is as portable as a Swiss-army knife. Having a pocketknife on your keychain can help you do some casual cutting, slicing, and can also provide you with self-defense in case of danger. Having one on your Keychain will be a good idea.
USB Keychain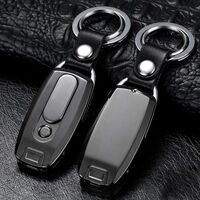 The USB keychain is ideal for people with the urge for gadgets. With the USB keychain, you have the possibility of charging your phone anywhere and at any time. The end of it has a braided knot which makes it difficult to hide its way even in a heavily stuffed backpack. The look of it is so lovely that you wouldn't want to be without one.
Key Organizer Keychain
Are you sick of hearing your keys jingle in your pocket? The convenient key organizer keychain, drilled from tough, quality metallic materials and finished in a solid anodized black finish, makes it simple to keep them in check. Almost any modern key will fit, and you can add 2-8 keys by unscrewing the flatheads on the ends and inserting keys within the jacket before actually securing them.
Arrow Tail
The arrow tail has been used for years by many celebrants as a party souvenir for their invitees. It is made out of leather and a few colorings with the bottom seamless cuts into an arrow (like the name implies), to match the purpose it is intended for. The arrow tail is a DIY keychain accessory. It is one of the simplest in the market and is easy to create that even a novice can build a business around it.
Stitched Heart
This stitched heart keychain accessory is beautifully designed out of leather and is such a darling to let go of. Its red color and the stitches binding the separate pieces of leather together are a symbol of a strong bond between two lovers. That is why it is the perfect and most used Valentine`s Day gift. It is one of the most beautiful things to put on a keychain.
Leather AirTag Keychain
The AirTag leather keychain is fabricated to work with iPhones. In case you misplaced your Tag, with the help of an app called "Find My Phone", your iPhone can notify you of where the Tag is. But it does not come with the Tag, it comes only as a leather holder.
Chug "N" Plug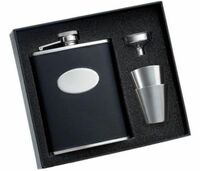 The Chug N' Plug is a simple way to shotgun your beverage of choice. Rather than breaking off the front of the can with your thumb and jeopardizing a slice, simply insert this device, pop the folder, and chug away. When you're finished, it will fit perfectly on the keychain. Furthermore, whether you're using it for alcohol, save it for after you've finished driving. Don't drive if you've been drinking.
Triumph Badge
This badge will indeed look great hanging upside down from your ignition system if you enjoy the joys and the challenges of cruising a Triumph. It's made of solid brass, complete with an elevated chrome finish, and will look great with your cruise.
Manual Transmission Keychain
This adorable little gadget is ideal for those who enjoy fidgeting. It has a fully adjustable shifting system, allowing you to decrease a gear and vanish with a swipe of your finger. This set also includes a bonus convertible wrench.
Conclusion
You now have a handful of things to put on a keychain with awesome designs and different significance to choose from. But this is not enough, before choosing, you need to identify your need for it. Are you looking for a keychain accessory to offer as a gift, a souvenir, or to put your keys together? Your unique need for it will tell you which one, or type to go for. Whatever the case, there is always enough to choose from.