Keyrings are one of the most insignificant, yet, sentimental keepsakes of our daily lives. Some of them (based on the types of keyrings) are obtained as gifts or souvenirs from a special event or a loved one. Often time, they seem so unnoticeable that we do not pay attention to how often we use them. Ever we go, whatever we do, we always have our key(s) around us, hocked up on a keyring.
Keyrings have become a staple in our lives that we cannot do without them, and we use them as we use our car keys, house keys, etc. Because this item is always distributed at events as souvenirs or gifts, most people do not even have to buy any. Some people even attach a photo to their keyrings to enhance their sentimental attachment and their closeness to it.
There are lots of keyrings in the market today. Different styles, marks, and designs make the process of selecting or picking a keyring a hassle. Because of that, we have taken the heavy lifting away for you by researching and picking the best keyrings that will suit your unique needs.
Types Of Custom Keyrings
There are four (4) primary sorts of custom keyrings based on the materials utilized in their fabrication.
1. Leather keyring
Leather keyrings are more expensive and have a more sophisticated appearance. These are frequently supplied by businesses and dealers in the motor sector for promotional purposes and are folded in leather. A personalized leather keyring is an ideal gift idea for businessmen or bosses.
2. Plastic keyrings
Plastic keyrings are the most common type of custom design keychain. These lightweight plastic rings are frequently used for advertising purposes. They are not only affordable but can also be molded and given whatever shape you desire. If you work in the flower or agriculture industry, you may also customize key rings to look like alphabets, colored flowers, or fruits.
3. Acrylic keyrings
Acrylic keyrings are utilized for a variety of marketing objectives at shopping malls and near movie theaters. They frequently target a large number of customers in a short period.
4. Metallic Keyrings
Metal keyrings are gleaming, smooth metal keyrings that are frequently etched with a company's emblem and name and are long-lasting until they rust.
Our Selection for the Best Types of Keyrings
Engraved Keyrings – Engraved keyrings are very unique and simple and will make a good deal of pleasure to people who like getting simple with their stuff. People who also love style can make use of engraved keyrings. This is because they can be customized into your unique font, your names, as well as provide your unique message you will love to be engraved on it.
PVC Keyrings
PVC keyrings will make a big deal for people who care about lightweight keyrings because they are made of plastic/rubber. Not because they are made of plastic that you may feel they are fragile, NO! They have been tested and proven to be very durable and resistible. The PVC keyrings can also be customized into various colors, sizes, designs, and shapes, which makes them the best keyring in the market.
The London Big Ben Keyrings
The big ben keyring from London features the world's greatest clock tower, as well as the London Eye, Tower Bridge, red bus Nelsons Column, and a telephone box.
Bottle Opener Keyrings
Every family should have easy access to a bottle opener at all times for any event, and what other better way there is to keep it than on a keyring? Bottle opener keyrings are also great to offer as a gift or a souvenir to your father, uncle, or anyone else who is continually popping bottles.
AH-64 Apache Keyrings
This little helicopter is made of quality English pewter and plated with 22-carat gold, making it a one-of-a-kind keyring. The product is packaged in a stylish blister pack.
Airbus Keyring
This little airplane, made of solid English pewter and plated with 22-carat gold, creates a distinctive keyring. The product is packaged in a stylish blister pack.
Remove Before Flight Keyring
Cotton is the only material used. With a beautifully stitched "Remove Before Flight" logo sewn on both sides of the keyring, making this a unique and popular keyring. As seen, it comes with a split ring.
Printed Keyrings
For those who desire their photo on their keyrings, they may easily do so by having their image printed in just about any size they like - whether it's a snapshot of a loved one, an emotional photograph of a location, or a long beautiful and enchanting message they like to deliver, or any graphic of their choice.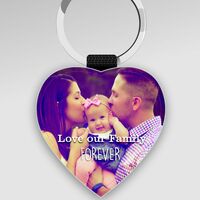 Photo printed keyrings become a genuinely unique and meaningful present for anyone. Printable types of keyrings are widely used and loved for their printable feature.
Custom Keyrings
Custom keyrings are the greatest option if you want your keyring to be completely customized to match your brand, design, or logo. These can be cut to any shape, enamel filled (painted) to your preferred hue, and plated in antique copper, antique brass, antique gold, black nickel, antique silver, brass, copper, gold, silver, and dyed black among other plating's. This is an excellent Christmas gift for your boss, as well as a corporate or promotional present.
Spitfire Keyring
This little airplane, made of solid English pewter and plated with 22-carat gold, creates a distinctive keyring. The product is packaged in a stylish blister pack.
Keyring with Screen Cleaner
Keyring with a hidden phone and a screen cleaner. They come in a bottle style, as well as a fold-out stylus, pen, and a mobile stand and include a stylus and screen cleaner. To provide a tangle-free experience, the keyring includes a folding earphone and a mobile stand.
Locket (Heart-Shaped) Keyring
Choose from a locket keyring with a torch, a heart-shaped carabiner keyring, a heart-shaped keyring with a picture frame and a sticky mobile holder, an eye-shaped keyring with a carabiner, and an I love keyring.
Conclusion
With all the above types of keyrings, do you still feel undecided yet? Now you have a bunch of options to sort through, why don`t you take the opportunity to grab yourself a new keyring you adore? We are confident that there is a keyring on the above list that will fit your demands, whether it is made of metal, leather, plastic, crystal rubber, or even wood.