Who does not love their mother? If not for your mother, you would not have been born. If not for all other things, we should all thank our mothers for the gift of life. From the day you were one day old to now, your mother has sincerely cared for you. She sacrificed and worked hard to give you a brighter future than hers. She made you a functioning grownup. It is because of her boundaries that you are now a responsible adult.
At some point, your mother may have been too strict on you, which may have made you resent her. Now that you are an adult, you probably see things her way. Mothers can forgive you for any offense, so do not resent your mom. Forgive her this Christmas and do it in style with a gift. Even if you have nothing against your mother, appreciate her this Christmas with a special gift.
Even if she is the type of mother who requires nothing, bring her a personalized gift. The Christmas season is the right time to be generous to others. Let your mother be one of those people you will honor this holiday. We can help you if you are saying the following. "I do not know what to get my mom for Christmas."
Best Gifts for a Mom Who Doesn't Want Anything
Your mother may not want presents because she got used to putting her needs last. Mothers remain selfless forever when it comes to their children. So your mom probably thinks that buying her something would strain your finances. Even if there is nothing you can do to repay her for her kindness, give her Christmas gifts for mom. Even with small Christmas gifts for mom who does not want anything, you can convey a sincere message to your mom. When she receives her present with a broad smile on her face, you will feel genuinely happy. Whether you want forgiveness or an emotional connection, use customized Christmas gifts. To pick the best Christmas presents for mom, read the tips shown below.
1. Custom Necklace: For the Emotional Moms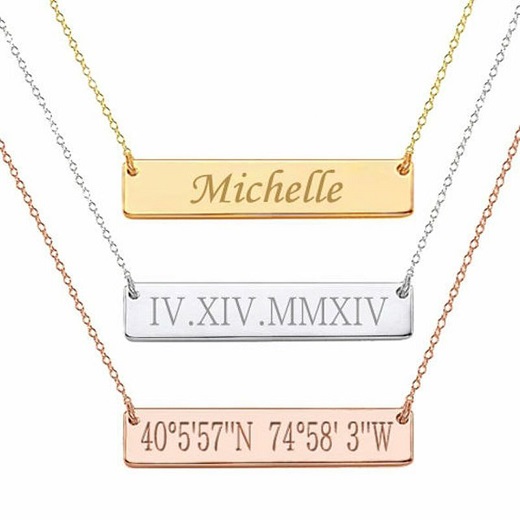 One of the top Xmas gifts for mom who doesn't want anything is a personalized necklace. A personalized chocker makes a better gift than a plain-looking necklace. It has an engraved inscription about the recipient's personality or interests. If you are dealing with an emotional mother who has everything, a custom necklace with her name, initials, or photograph can elevate her mood. Your mother is so valuable that no one and nothing can replace her in your heart.
For that reason, she deserves a high-quality stainless steel personalized necklace with a pendant this Christmas. Besides being durable and rust-resistant, elegant stainless steel necklaces offer enough engraving space on the pendant. From vertical bar to custom bar stainless steel necklaces with pendants, you cannot miss an ornament for your mother.
Alternatively, you can choose a personalized 925 sterling silver necklace with a heart pendant or Cubic Zirconia. Silver necklaces are classy gifts for mom who want nothing; they are too precious to resist. A high-quality necklace for an emotional mom can generate unforgettable memories in the mind of the receiver and the giver. Grab this chance to experience these memories this Christmas season.
2. Bracelets: For The Mom Who Loves It!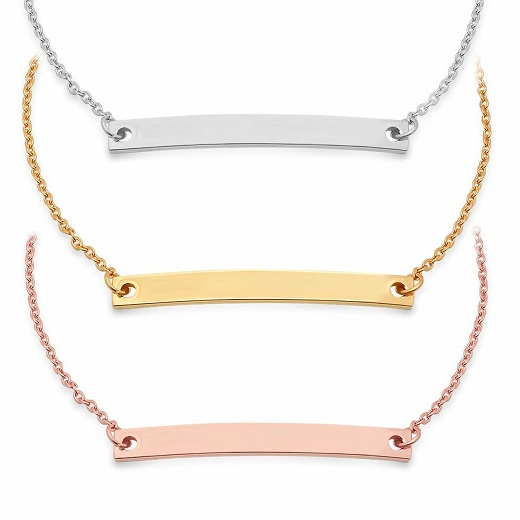 Someone else does not have a mother this Christmas season. You should celebrate your mother, therefore, if she is alive. Give her personalized bracelets to express the love and affection you feel for her. Bracelets come in a wide range of styles online. However, your mother deserves a sophisticated bracelet that tells a story about her life. When searching for it, consider the construction material and the design. We would highly recommend picking custom stainless steel bracelets with ID plates or tags. These make the right gifts hard to buy for mom as stainless steel is highly glossy and noticeable.
It also does not fade or discolor, meaning that your mom can use her customized bangle for a very long time. Consider also the color of the bracelet as you want it to be more feminine. You can try our Pink Macrame Bracelet and Stainless Tag Adjustable bracelet, for instance, because of the cute pink color. If your mother loves wearing bangles, get her a type she has never seen or bought for herself. Make it stand out with an engraving that describes her beautiful personality. Choosing engraved bracelets for her will definitely make her happy. Above all, give her this bracelet this festive season to wear when visiting friends and relatives.
If your mother loves casual wear, get her a bespoke stainless steel Bracelet that does not rust, fade, or break easily. Our black rubber band with an adjustable length and a stainless steel center plate is a super unique bracelet for a wonderful lady like your mother. It has two lines of engraving space with twenty characters per line. Here you can add her name and a brief praise message for free. It is among our best gifts for mom who has everything and wants nothing.
3. Personalized Ring: For The Mom Who Loves You Forever!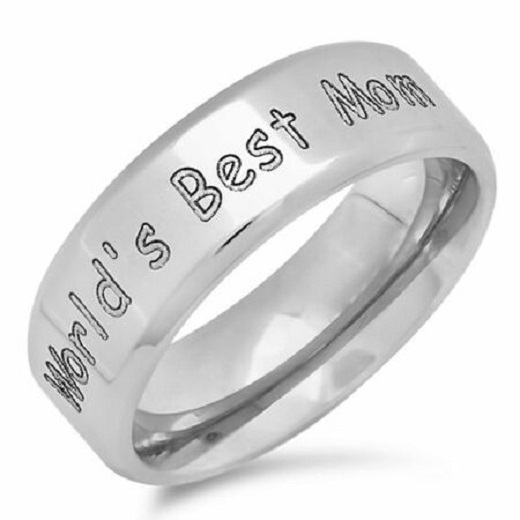 Does your mother love to wear rings? If she does, get it for her because rings are some of the top Christmas presents mom can receive. A finger ring symbolizes marriage and engagement. However, people wear rings to portray their fashion taste and complement their other accessories. You should help your mother feel desirable and youthful with a custom band.
A 925 sterling silver ring or a stainless steel spinner ring can be excellent picks for your pretty mother. To customize it with her details, you can engrave the inner and outer sides for free. Still, you can get a ring that directly speaks to your mom. For instance, our 925 Sterling Silver World's Best Mom Ring is gorgeous, stylish, and exceptional. It calls your mom the world's best nurturer. Custom ring makes such a heartwarming message for her.
4. Locket: Symbolize Your Love into an Everlasting Bond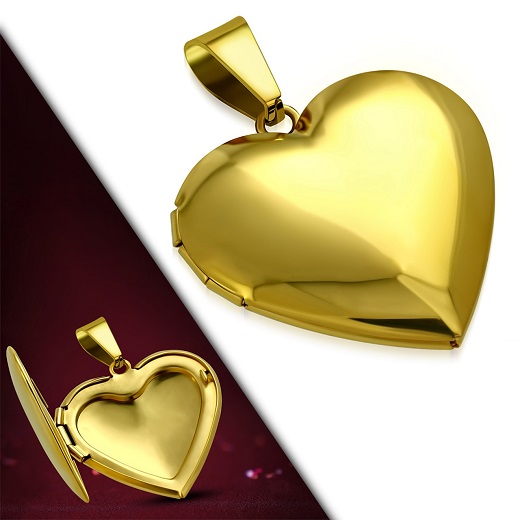 Another suitable gift for mom this Christmas is a locket. A personalized chain with a nicely-shaped locket pendant makes a good pick for your mother. It is a perfect choice if you want to include more than a name. You can add inscriptions that can best demonstrate your feelings for her. A heart is a symbol of pure love.
So you can get a personalized heart pendant for your mother if you want her to feel your love. Alternatively, you can choose a stainless steel circle or oval pendant with a space for the cutest photo of your mom. You can also personalize this jewelry piece with an image of your mom and you. Such a photo can portray your desire to have a stronger bond with your mother.
Do not only focus on the shape of the pendant; consider color and décor accents. The goal is to make your dear mother know that she is always in your thoughts. A custom locket pendant is sufficient for that purpose.
5. Dog Tag Pendant: For The Mom Who Loves Dogs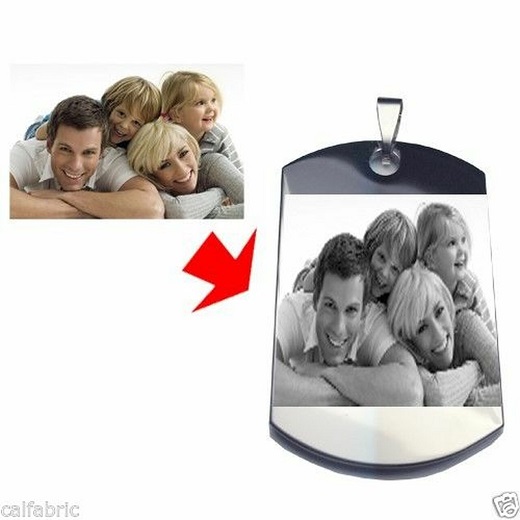 Does your gorgeous mom love dogs, and does she demand the best for them? If she does, you can give her a gift that would help express her love for dogs. First, your dog tag gift can reveal that you support her pursuits and interests. Also, it would clearly show that you notice her unconditional love for people and animals. Therefore a photo dog tag pendant made of stainless steel is a cute gift for your mom this Christmas season.
Besides being durable and elegant, a personalized dog tags is a humbling gift for a mother who has everything. You can get it in silver, gold, or black colors. Again, a typical dog tag pendant is mostly 1 inch wide and 1.98 inches long. It may feature a lovely bead chain too. You can add a photo of her dog, a photo of her dog and her, or a related image.
Besides a tag pendant, your mom can appreciate a personalized photo dog tag keychain. It is a perfect choice for a mother who loves dogs, and you can engrave it for free. You can choose a photo of a dog, your mother and his dog, or any other image. It is one of the best Christmas gifts for parents who have everything because it has practical everyday use. She can organize her keys with a keychain that depicts her love for her favorite dog.
6. Personalized Photo Frame: Make Memorable Your Mom's Special Moment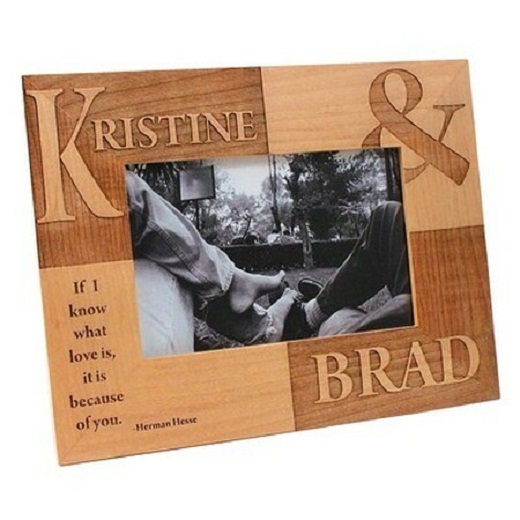 When your mother had you or another of your siblings, she probably shed tears of happiness. Many years have passed now, and you have all grown up. Your mother can only wish you were young again, so she can relive all those breathtaking moments you all shared. Although you cannot make her wish come true, you can send her a gift that could help her revive her special moments.
These are not only about her children, but also the happiest days of her life. For instance, you can give her a Christmas gift with her wedding or wedding anniversary photo. You need to know the moments that made your mom happy in the past before you can personalize your present based. For instance, you can offer her a personalized photo frame with a picture of her family. You can also add a photo of your parents to the photo frame.
As you pick the best custom photo frame for your mother, consider the size of your images. There are frames to suit photos of all sizes, including the 5 x7 ones. A great thing about customizable photo frames is that they can display photos in a horizontal or vertical dimension. As well, they offer an engraving space at the bottom of the frame.
7. Personalized & Engraved High-quality Jewelry Boxes: For Jewelry Lover Mom's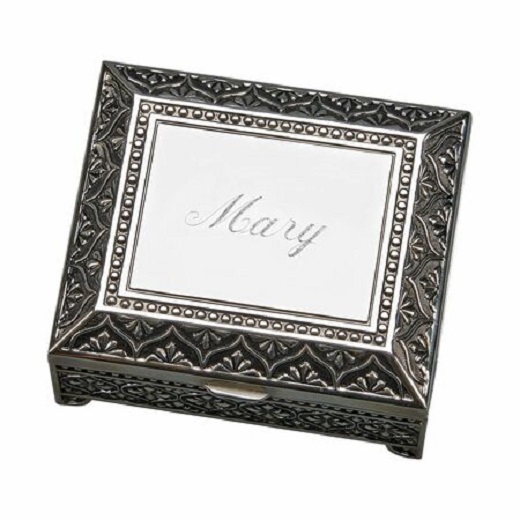 Does your mother have endless love for jewelry? If she likes wearing jewelry, get her an ornament she does not have in her collections. It means you have to check what she has bought for herself to avoid giving her something similar. Your mother could be one of those women who buy jewelry on impulse. So she has so many pieces that getting her an extra piece would be welcome but not special.
In such a case, you can give your mother an elegant jewelry box this Christmas Day to help her organize her ornaments. We have a wide range of high-quality, unique boxes that would suit her tastes. They have different shapes including square, star, single or double hearts, rectangular, oval, and circular. Some boxes have a glass top and others a ceramic tile top.
Still, you can pick for her a box with lovely beadwork, a chest of drawers, or a space to engrave a name. If your mom is fond of antique items, you can get her a vintage square jewelry box. Most square jewelry boxes are easy to engrave, and you can choose the words you want to add. Focus on finishes too as you select one of the best Christmas presents for moms who want nothing.
8. Miscellaneous Gifts for mom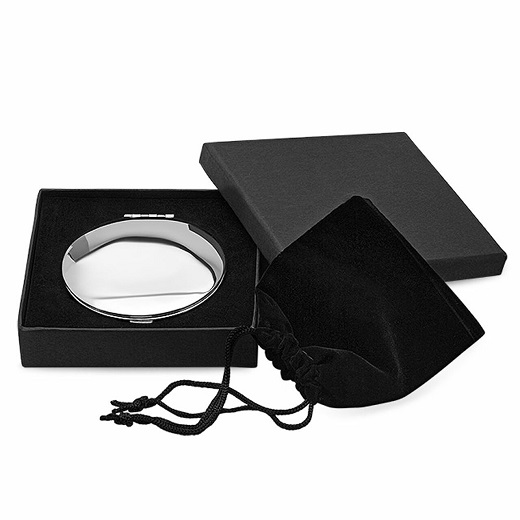 Things like necklaces, bracelets, rings, locket pendants, and jewelry boxes stand out as gifts for mothers who are hard to please. However, they are not the only things we can recommend as presents for your dear mother. There are other creative awards your mom can be lucky to receive from you this festive period. Among the best miscellaneous Christmas gifts for a mother who does not need anything is a personalized gift wooden box with a ceramic tile.
You can personalize it with a full-color picture or add text to it. Another assorted gift you could offer your mom or another mother in your life is a compact mirror. Women love mirrors so much and your mother is not an exception. Compact mirrors are some of the best Christmas gifts for mom from children. They come in all shapes, colors, and sizes. So there is a perfect match for your dear mom this Christmas on the Forever Gifts website. If you want to show your mom your kindness, choose a beaded compact mirror with a heart shape. She will always place her chic mirror in her handbag.
An alternative miscellaneous gift for your mother is a dog tag keychain with a photo of her dog or cat. Your mother can appreciate a new photo dog tag keychain because she manages several different keys. It is a practical gift for her this Christmas and years ahead. You can use a family photo, your mother's photo or any lovely pet image to personalize her keychain.
Final Verdict
Your mother is a priceless gift from God; do not take her for granted. Embrace her this Christmas and give her one of the best Christmas gifts for mom as a responsible children. When this holiday season ends, you will start worrying about school fees and other expenditures. Now is the right moment to honor your dear mother or another special mom in your life. Surprise her with any of our personalized Christmas gifts for mom who have everything and want nothing. She will forever bless you for your thoughtfulness. My mom says she wants nothing for Christmas, but I will still honor her. Do the same to show your mom respect and appreciation.