Let's face it, sometimes seniors can be tough to buy for. Anyone 65 or over can tend to be pickier, even testy when it comes to gifts. Seniors probably won't be interested in clothes or electronics, and these are not unique gifts anyway. What you want for a senior is a unique gift that was created just for them.
You can go the really personal way and create something yourself, perhaps some favorite treats in your kitchen or even something you sewed or crafted just for them. Or you can go the other way and get them a gift you purchase but have had it engraved or customized just for them. This is an easy, and usually inexpensive way to give a truly unique gift to a senior on their birthday.
A pocket watch will be a fun gift for Granddad. A pocket watch gives you that old fashioned, retro look and is also very practical. Many older men still use a pocket watch. Imagine their delight when you give them a pocket watch that has been personalized just for them.
Have it engraved with their initials and/or a special message from you. Each time they open the watch to check the time, Granddad will surely think of you. Pocket watches make for an impressive gift, but they can also have a wide range of prices. Choose a more simply designed stainless steel pocket watch for $20-$30 or get something fancier if you have a higher budget.
Granddad may also be able to make use of a money clip. Money clips are often used by the older generation to keep their paper currency bills neatly organized in their pockets. Money clips are especially handy for people who carry around a lot of small bills in their pockets. A money clip is an inexpensive but useful gift and it can be nicely engraved with their initials or name.
Flasks are another old-fashioned style of gift. A flask is simply a device that holds liquid, usually made of stainless steel. Both Grandma and Grandpa could make use of a flask to carry around some liquid, typically hard liquor, but other liquids can be used. A flask can be engraved with their initials or name on the side.
Grandma would certainly appreciate a cute heart shaped jewelry box engraved with her name and a special message from you inside. Grandma's can make use of jewelry boxes, but so can Grandpa. Don't forget that Grandpa probably has rings and watches that he can store in his jewelry box. Just make sure to get him one with a square or rectangle shape with more masculine details. For Grandma, make the gift extra special by placing a little trinket or piece of jewelry inside, as no one wants to open an empty box.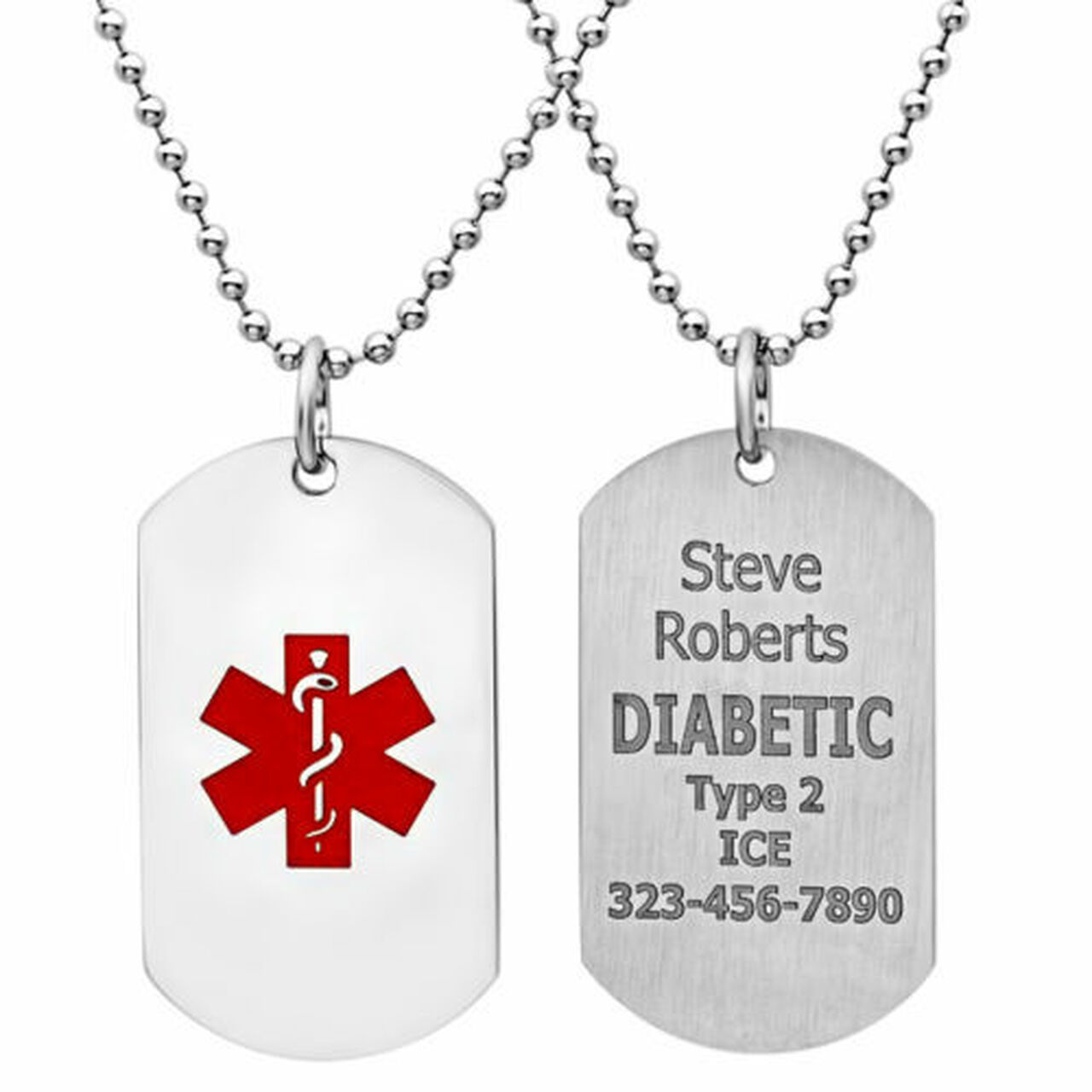 Here's a gift that is very practical and useful, yet also makes for an impressive gift. Give Grandma or Grandpa a gift of medical ID jewelry. Medical ID jewelry is simply jewelry that is engraved with important medical information on one side and a medical symbol on the other.
The engraving will typically feature their age, blood type, medications, allergy information, any medical conditions or diseases and any other details that would be pertinent to someone providing medical care to your loved one. As you can imagine, medical ID jewelry can not only be stylish, but also has the potential to save your loved one's life. Since as we get older, we are more likely to have health issues, medical ID jewelry makes for a very valuable gift idea for any senior.
Seniors are more likely to have to take pills on a daily basis than others. This is why a personalized pill box can be a great gift for senior birthdays. A pill box is simply a little box that you can carry around with you in your pocket or purse. Inside, it contains separators to separate different types of pills.
This is handy not only for important medications, but also for vitamins and other supplements they make want to take. A personalized pill box can be engraved on the outside with their name or initials. They come in shiny stainless steel or even sterling silver, making these handy boxes an impressive gift idea that any senior would appreciate.
Many seniors use tobacco products, whether cigarettes or cigars. There are many types of tobacco related gifts you can give to the senior smoker in your life. Consider a cigar humidor engraved with his name to your Grandpa who loves to smoke cigars every once in a while. Or for Grandma who smokes cigarettes, she would appreciate a fancy, shiny cigarette case which has been engraved with her name.
There are also accessories you can give that can be engraved with their name, such as ashtrays, cigar cutters, cigar and cigarette holders and even lighters. In fact, a popular gift idea is a personalized lighter. You can even get a brand name lighter like a Zippo engraved.
Many seniors love to golf, maybe Grandma and Grandpa love to golf together on the daily or they may even have chosen to retire and live by a golf course. For these seniors, a gift related to golf is a great idea, and you have many options to choose from that can be engraved. Consider a golf themed keychain, golf themed lighter, golf tees, golf balls, golf club covers or even a golf themed flask.
For Grandma, a locket can be a special gift. A locket is a pendant which hangs on a chain. The locket is special because it is a pendant with hinges on the side, so it opens to reveal something else on the inside. Inside the locket, you will usually find a very small picture, or even a lock of someone's hair. On one side, you can have it engraved with a meaningful message. Any Grandma would love to receive a thoughtfully engraved locket from their kids or grandkids.
Concluding remarks:
Make your senior happy with the above gifts list. Senior's contribution to our family is a lot. It is our turn to make them feel better and happy with birthday gifts for senior citizens.