Introduction
Is your grandchild about to get Baptized and you are wondering what to present them as a gift? A present from a grandparent needs to be both meaningful and commemorative. Something that the child will remember years later. In the following piece of writing, we will deal with the question at hand i.e., what do grandparents give for baptism gifts?
Importance of Christening
A christening or Baptism ceremony is an important event in the life of a Christian. It is a rite of passage denoting the entry of a child into the Christian church. It is a day to celebrate where the parents, siblings, and the relatives of the child witness the ceremony. People who attend this ritual celebrate the occasion by giving gifts to the child and the family.
Gifting Ideas for Grandparents
As mentioned earlier, the people who attend this ceremony celebrate the occasion by giving gifts to the baptized child. Since the child receives many gifts, the ones given by grandparents must be memorable. As such there aren't any rules about gift giving. It can range from things that a child can use like customized quilts, toys, or clothes; or a memento like an engraved silver cup or an engraved silver photo frame to remember the occasion.
Let us look at the possible gifts-
1. Baptism dress- A baptism outfit that a child can wear at the baptism ceremony is a wonderful present that grandparents can give. A christening gown and cap is a beautiful piece of clothing that grandparents can gift to a baby girl. A smart suit for a boy is a great idea for a present. Although the outfit is worn only at the ceremony, it can be preserved as a commemorative. The same suit or gown can be worn by younger siblings at their christening or passed down to future generations.
There are several options to choose from. Although christening gowns are primarily white in color, the intricate and beautiful designs on them make these a cherishable gift. Several boutique stores and online stores sell christening gowns and caps. Similarly, handsome looking tuxes are available for baby boys. Many options are available in high-end stores and online shops as well.
2. Customized Photo Frame or a Photo Album- grandparents can gift personalized photo frames to their grandchild. The frame can carry the baptism photo of the child along with the date of baptism and the name of the child. Certain photo frames allow you to add a few lines of description at the back of it.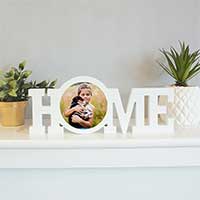 Another thoughtful gift is a photo album. You can place all the relevant baptism ceremony photos and gift the same to your grandchild.
Both these presents can be preserved and cherished for life.
3. Beautiful Jewelry- is another perfect gift for grandparents to present. In fact, jewelry is one item that a child can wear as it grows. For example, adjustable bracelets or neck chains, earrings, and rings can be worn at any age. Several choices are available in these as well. A neck chain or bracelet with a heart or a cross on them. A ring or earrings studded with birthstones are just a few examples. Ornaments qualify as an essential and thoughtful gift from grandparents.
4. A Bible and A Cross- to initiate the entry of your grandchild in the religious fold, a golden or wooden cross inscribed with the name of the child is a thoughtful gift. Both these presents are meaningful ones. A personalized cross and a bible can be placed in the child's bedroom as a token of their religious beliefs. This thoughtful gift indicates your support for the child's religious affiliation.
5. Keepsake Box- to present the cross, you can place it inside an attractive looking sterling silver box with a verse inscribed on it along with the child's name and the date of baptism. The same boxes can be used to place jewelry in them.
6. Meaningful toys- toys contribute to the overall development of the child. Educational and bright toys can be presented by the grandparents at the baptism ceremony. Ensure that the toys are safe and do not cause any hazards.
7. Gift Baskets- if you are having a hard time deciding what do grandparents give for baptism gifts then go for a gift basket. These can be filled with multiple contents. You can fill it up with items like a baby blanket, booties, hats, shoes, headbands, bibs, baby clothes, baby soap, diapers, baby towel, baby powder, etc. These items come in handy for the parents.
8. Money as a gift- if you feel you ought to help the parents financially and contribute towards the upbringing and education of the grandchild, then gifting money or starting a college fund for the child can be an amazing gift. This way you have secured the future of the baby. The keepsake boxes we spoke about earlier can be used to place money or a cheque.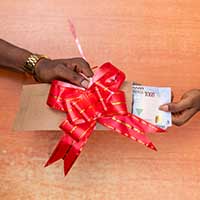 9. Books- presenting books as a baptism gift is a thoughtful and useful gesture. Children start enjoying books from an early age and as a grandparent, you can read these to them during bedtime. Board books, children's books, religious books for children, etc are a few good choices. Additionally, by writing a meaningful message inside you can turn this item into a personalized gift. As a combination, you can present it with a money gift.
Apart from the ones mentioned above, there are several gifting ideas that grandparents can think of. For example, inspirational figurines and cutlery, or utensils that the child can use once they grow up. You can also plan on gifting some cute animal art print that can be hung on the wall in the nursery. A set of personalized bibs is also a good option.
Concluding words
In this article, we have tried to cover as many possible gifting choices as we can. When thinking about the question of what do grandparents give for baptism gifts do keep some essential tips in mind. Make sure you present a thoughtful, meaningful, and useful gift. Also, by personalizing any gifting item the child is likely to remember and keep the present for a lifetime.