An engraved business card holder is a perfect gift for a man in your life. It is not just a tool to get his business cards organized. A business card holder with engraving can also help him show his sense of style when choosing accessories. Engraved business card holders are not everywhere, and that is why they are unique and admirable. When you offer a darling man in your life an engraved business card holder, you can help him stand out during a meeting with his associates. Besides appearing orderly and thoughtful, he can also look like a real executive.
Advantages of Engraved Business Card Holders
Why should you choose engraved card holders over the plain-looking ones? The pros of doing so include the following:
Engraved Cards are Exceptional
If you place an engraved card holder in a group of plain-looking card holders, it will be more conspicuous. Someone can single it out because it appears different. A perfect gift for a man should be distinctive and personal. Engraved business card holders match this description very well.
Creates The Best First Impression
Besides smartness, your man should also have class. Luckily, he can use a simple accessory like an etched business card holder to depict his sense of style and class. Naturally, a business card holder portrays the traditional business culture and expertise. Teamed up with a smart business suit and briefcase, an engraved business card holder can make a big difference in his profession.
A Holder Can Keep The Cards Clean, Safe, and Organized
The primary role of a business card holder is to keep cards safe and organized. No matter where your man stores his business cards, he can use a card holder to keep them clean, organized, and safe. He can avoid giving away dirty or torn cards just by placing them in a holder. Whether engraved or plain, a quality card holder can maintain card cleanliness, safety, and tidiness.
Keeps Cards Within Reach
A businessman uses business cards to promote his company whenever he meets new people. If he has an engraved business card holder, he can carry any amount of cards when attending events and meetings. Since they are in one place, the cards will stay clean and tidy. Above all, he will only need to pull out the holder from his briefcase or pocket and access his cards. Even if he is in the office, he can remove one or more cards from the pack and share them. Whether he chooses to keep the engraved card holder inside a drawer or on top of his desk, the cards will never get dirty or curl around the edges. The holder can keep them accessible and maintain their brand new appearance.
Engraved Business Card Holders are Affordable
These accessories make the best gifts for men because they are affordable and stylish. All you have to do is to choose a reputable online seller of etched business card holders. Some websites offer professional engraving services for free or in exchange for some cash. So your job is to decide on the special message to engrave into the card holder. Whether you want to write his name, company name, or logo, it is up to you. The engraver will give you what you want.
What Types of Business Cards Can You Choose?
If you want to purchase a high-quality card holder cheaply, choose online stores with an engraving service. Do not feel confused by the term card case because it refers to a card holder. The available types of card holders include:
Metal Holders
These are the easiest options available online. They can feature a basic metal or an expensive and elegant material like silver, stainless steel, rhodium, or gold. Both simple and sophisticated metal cases are easy to engrave. However, you can personalize a high-end metal business card holder with more than just a name or a monogram. Some metal cases have two colors and precious stones accents. Thus, take the time to select a well-constructed metal case to ensure that it can withstand daily abuse. The construction material should resist corrosion and fading. Lastly, choose an engravable metal case only.
Leather Card Holders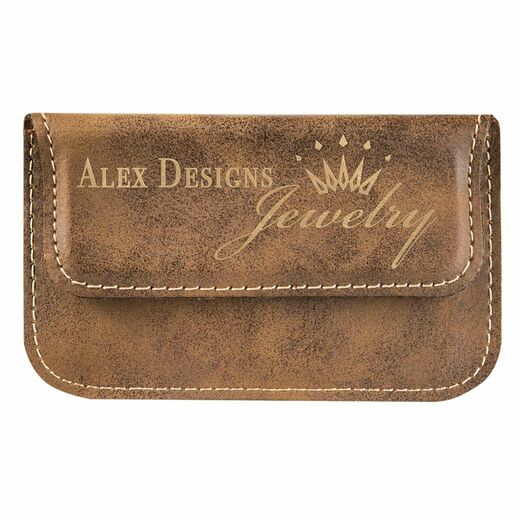 Some of the most attractive engraved business card holders consist of leather. Many of these cases use a combination of leather and metal. Some leather-only cases are so thin that they can fit in small spaces. While they are more portable, these types can deform your man's cards. They tend to carry things the same way a wallet does and can warp the edges of a card. Faux leather cases are not the best when it comes to quality. So, to give your man the most long-lasting leather card holder, you can choose an exotic leather holder. Leather cases also feature different colors and textures. Make sure your pick your guy's favorite color.
Besides the construction materials used to make an engraved card holder, consider the closure mechanism. You should avoid card holders that do not close because they can expose your cards to dirt. Instead, choose the types of cases that close via a latch or a magnet. Again, ensure that the locking mechanism can work smoothly when the cards are inside. Now you know how to choose engraved business card holders. The next thing you want to do is to select the best item for your man.